With an Introduction by Elizabeth Cropper
Vienna 1992
251 x 197 mm, hardback with a dust jacket
162 pages, 77 b&w illustrations
ISBN 3-900731-33-0
Craig Hugh Smyth was the first to draw attention to the importance of Late Antique relief sculpture in the development of the style which is perhaps still one of the most controversial aspects of sixteenth-century Italian art. Revised edition of the 1963 publication, with an introduction by Professor Elizabeth Cropper.
"Craig Smyth's book offers particular ways of thinking about the relationship between the classic and the antique in the mid-sixteenth century, about stylistic patterns, imitation, rule and license. Smyth encourages the reader to think of Mannerism as a process, of the Maniera as a discrete style. Though he provides a history of meanings of Mannerism and Maniera (which the addition of an index now makes more accessible), the author never accepts the ideologcal alibi, but offers a model of stylistic criticism that now seems remarkably aware of the dynamic of classicism between Raphael and Poussin."
From the Introduction by Elizabeth Cropper
Craig Hugh Smyth (1915-2006) was Professor of Fine Arts at Harvard University. He was Director of the Institute of Fine Arts at New York University from 1951 to 1973 and of the Harvard University Center for Italian Renaissance Studies at Villa I Tatti, Florence, from 1973 to 1985. Among his publications is Repatriation of Art from the Collecting Point in Munich after World War II, Background and Beginnings, concerning the origin and mission of the Minuments, Fine Arts and Archives Section in the allied armies and of the Central Art Collecting Point, headed by him in 1945-46.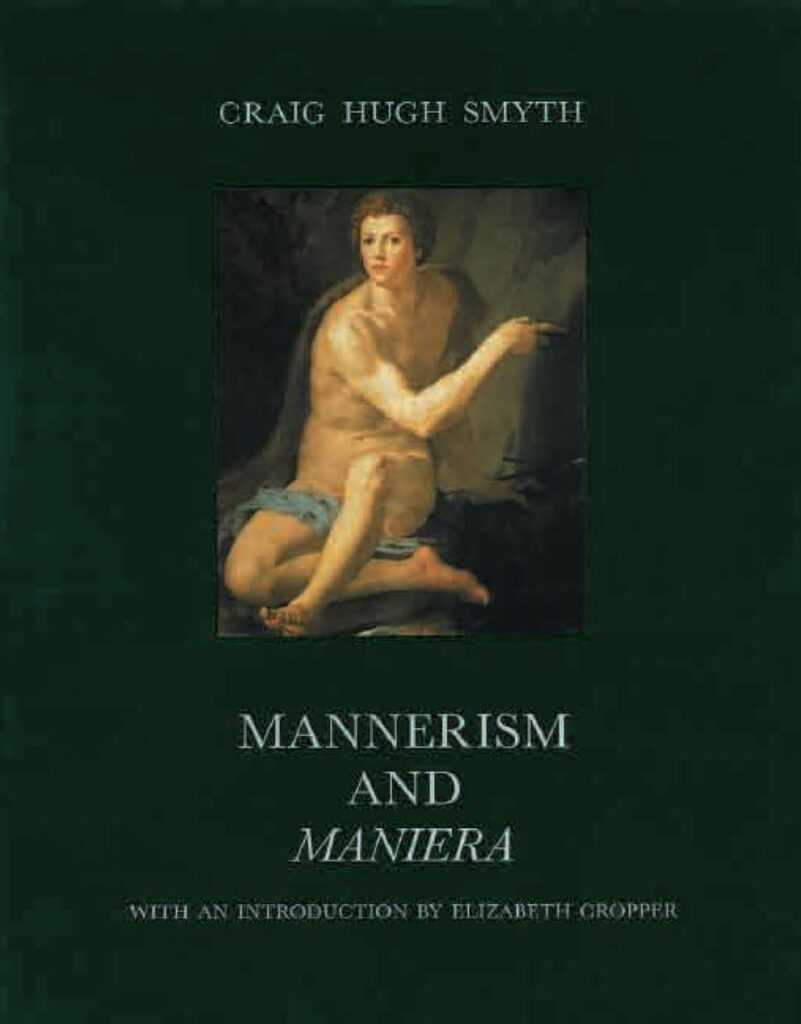 CONTENTS
Preface to the Second Edition
Preface to the First Edition
Introduction by Elizabeth Cropper
1. On the State of the Question
2. Derogatory Use of the Term Maniera in the 1550s for a Practice in Contemporary Painting. As Source of the Term Mannerism in Art
3. Aims of Painting in the Mid-Sixteenth Century, According to Vasari
4. The Conventions of the Practice Called Maniera
5. Late Antique Relief as Source of the Conventions
6. The Gathering, or Coalescing, of the of the Conventions; their Beginning Earlier in Renaissance Art
7. On Virtues of Maniera
8. On Hazards in the Practice of Maniera
9. On the Classic High Renaissance as Interlude, while Providing Precedents
10. On the Relation of Modern Concepts of Mannerism to Mid-Cinquecento Maniera
11. Epilogue
Footnotes
Introductory Bibliography (as of 1990)
List of Illustrations
Index: Introduction
Index: Mannerism and Maniera
Photographic Sources