Kordegarda Gallery, Warsaw 2002
232 × 252 mm, 112 pages
31 full-page colour plates
2 b&w and 24 colour photos
ISBN 83-915130-4-1
Publikacja dwujęzyczna w językach polskim i angielskim.
Catalogue accompanying the exhibition of works of Krystyna Schwarzer-Litwornia, held at the Kordegarda Gallery in Warsaw (November 2002 – January 2003). The book presents the most important of the works so far realised by the artist: both her small glass sculptures and larger, sculptures-installations, of which the most recent one is Daedalus and Icarus. The book contains critical essays by M. Małkowska, T. Nyczek, P. Szubert, D. Wróblewska, a biography of the artist, a list of individual and group exhibitions, and selected bibliography.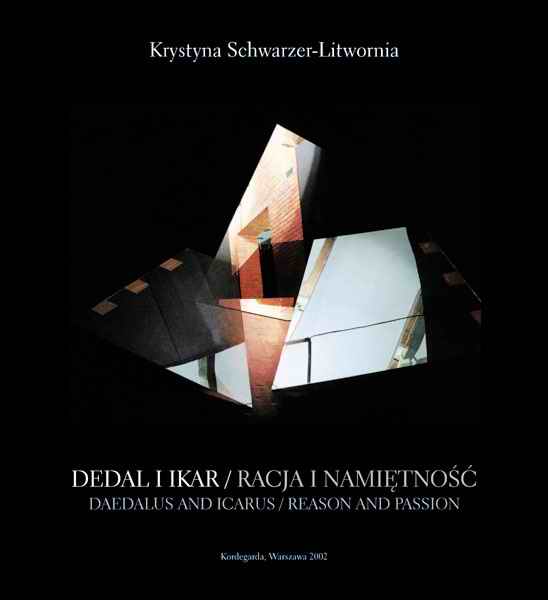 CONTENTS
Krystyna Schwarzer-Litwornia
Słowo od autorki
A Word from the Author
Monika Małkowska
W poszukiwaniu cudowności
In Search of the Miraculous
Tadeusz Nyczek
Lustralia
Mirabilia
Piotr Szubert
W labiryncie zwierciadeł
In the Labyrinth of Mirrors
Danuta Wróblewska
Myśl i poryw
Thought and Impulse
Biografia / Biography
Wystawy / Exhibitions
Bibliografia / Bibliography
Dedal i Ikar / Daedalus and Icarus