Cracow 2022
200 × 257 mm, laminated hardback
212 pages, over 100 illustrations
ISBN 978-83-89831-35-4
Translated from the German by Renata Stein
This is an English translation of a classic study on the iconography of Jewish art by Rachel Wischnitzer-Bernstein (1885–1989), originally published in Berlin in 1935 as Symbole und Gestalten der jüdischen Kunst. The outbreak of the Second World War prevented the book from spreading, and its uncirculated print-run was almost entirely destroyed by the Nazis. The few surviving copies of the book that circulated among specialists, gained this highly innovative work on Jewish iconography a position of a classic study. The present English edition makes the legendary book by Rachel Wischnitzer-Bernstein available to wider audiences of international readers for the first time.
"Against all odds, two years after the Nazi party and Hitler rose to power, Symbole und Gestalten der jüdischen Kunst appeared in Berlin in the mid-1930s. Presenting the visual art of the Jewish people as a sophisticated humanistic achievement, this handsome, beautifully produced volume illustrates the deep meanings and the powerful symbols of the Jewish people over the ages. Moreover, the book's thesis and the materials gathered in it are underlined by an implied aspiration: to strengthen Jewish identity and make the Jews of the time conscious and proud of their rich heritage. The author of this courageous book […], Rachel Wischnitzer (1885–1989), a modest woman, small in size, […] contributed more than any other scholar of the first half of the twentieth century to the establishment and development of a new field of academic study – the history of Jewish art."
Shalom Sabar
(from the biographical essay)
Rachel Wischnitzer (1885-1989) during her long life produced 344 publications, including books, scholarly articles, reviews of books and exhibitions, as well as encyclopedia items. She edited the literary and artistic periodicals Rimon and Milgroim, together with her husband Mark. The doyenne of historians of Jewish art, she was a pioneer in the field when she published in 1913 her first article on the ancient synagogue in Lutsk. Her wide interests drove her to study and publish about Hebrew illuminated manuscripts, synagogue architecture, Jewish and general iconography. Her major contribution to Jewish iconography was a courageous attempt to find a single theme to which all the paintings in the third century Synagogue at Dura Europos would adhere.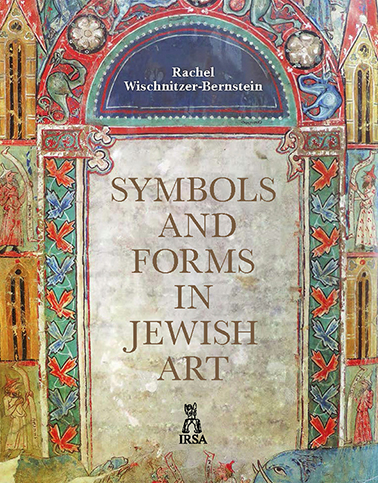 CONTENTS
Józef Grabski Foreword
Introduction
I. Divine Revelation
II. Kingdom
III. Doctrine
IV. Priesthood
V. Judaism
VI. Festivals and Customs
VII. Messianic Hope
VIII. Time and the Universe
Shalom Sabar Rachel Wischnitzer: Life and Work